How Has Kenyan President William Ruto Fared Six Months Into His Tenure?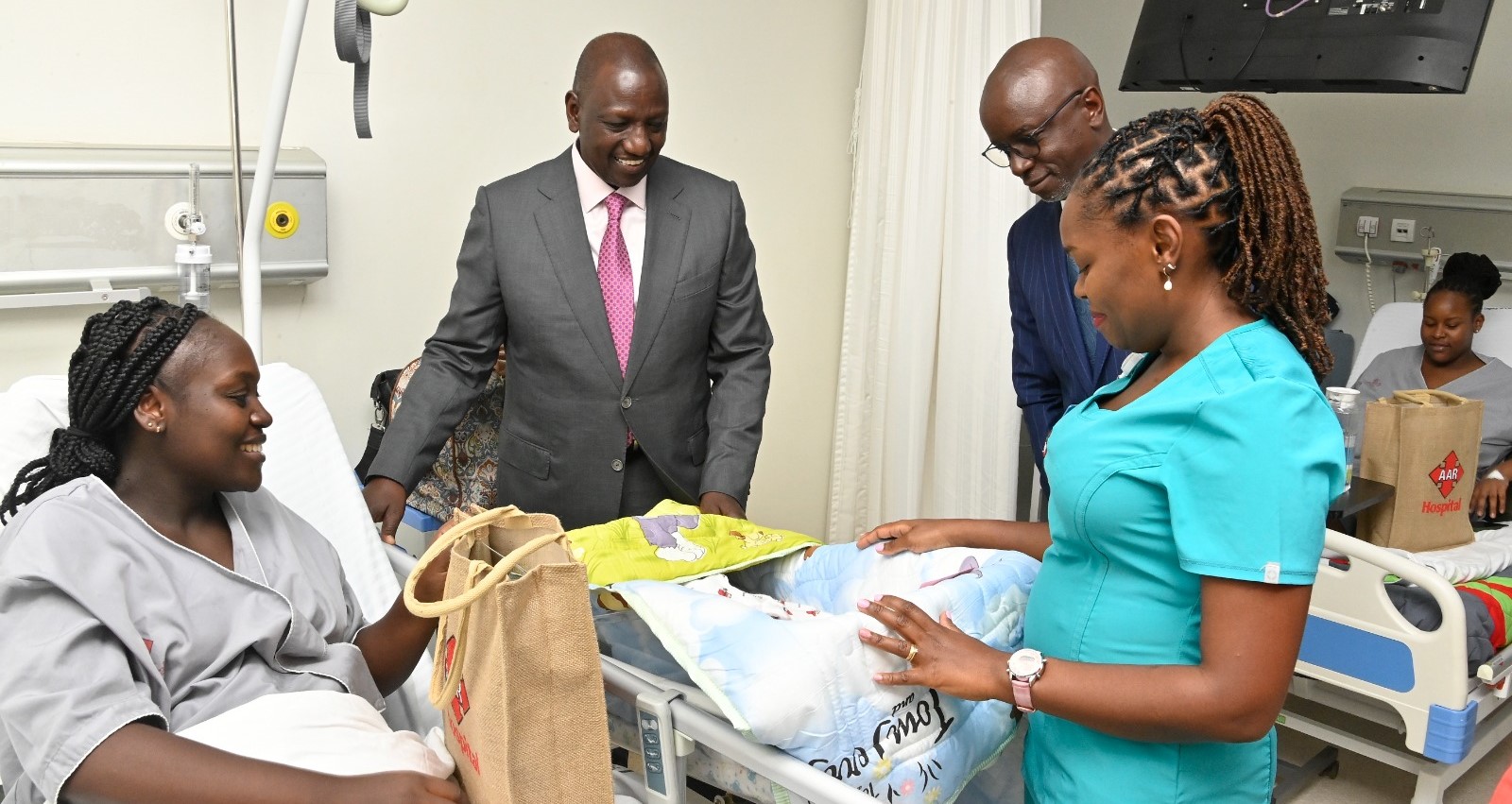 It's been six months since President William Ruto stepped into office with a promise to revive the Kenyan economy, improve food production and provide quality infrastructure, education and healthcare services. Building on our review of his manifesto prior to his tenure, this piece investigates the former deputy president's adherence to his campaign promises amid the East African country's complex issues. In recent years, the country has struggled with rising inflation and interest rates, fiscal distress, structural weaknesses, and imbalances in the real economy. With an unemployment rate of 5.6 percent, an average inflation rate of 6.3 percent, and an average annual gross domestic product (GDP) growth of 4.4 percent over the last decade, the country continues to experience a disconnect between its impressive GDP growth and the economic struggles of its citizens.
Elected on the promise of a "Bottom-Up Economic Transformation," President Ruto has taken several early actions in line with his pledges of economic transformation. He recently promised a KES50 billion annual commitment to the Hustlers Fund initiative —a financial inclusion fund to provide affordable credit to businesses, aimed at boosting economic growth and employment. He has also kept his promise on the housing and settlement plan by launching several affordable housing projects across the country.
Ruto has made key achievements in several other key sectors of his economic plan:
Agriculture
The Ruto administration has outlined measures to increase food production. These include input finance and intensive agricultural extension support to poor farmers, which has helped cut down food inflation 15.3 percent in September 2022 to 13.3 percent in February 2023. The administration has also supplied subsidized fertilizer to over five million registered farmers across the country to help mitigate the nation's drought challenges. New dam construction projects have been initiated to address these drought concerns and ensure Kenya has enough harvested water to facilitate irrigation. Additionally, the Ruto administration is in the process of importing staple foods into the country in March - approximately 4 million bags of maize and another 2 million bags of different rice and beans to ensure food security.
Infrastructure
Infrastructure revitalization has commenced. Ruto's government has allocated Ksh3.5 billion to the Mombasa road maintenance project. His administration has also restarted several road construction projects and begun the construction of new motorways, including the launch of the construction of the Mtwapa-Kwa Kadzengo-Kilifi (A7) road linking Kenya and Tanzania. The cross-country motorway is part of a $61.4 million Malindi-Lunga Lunga/Horohoro-Tanga-Bagamoyo East African coastal road corridor project, a partnership with the African Development Bank (AfDB), the African Development Fund, and the EU-African Infrastructure Trust Fund Grant. President Ruto also secured the passage of the County Governments Additional Allocations Bill 2022, which will release Ksh43.82 billion in grants for counties. The Bill was re-introduced to save county programs and projects that were at risk of being stalled.
Micro, Small and Medium Enterprise (MSME) Economy
The Hustlers' Fund, which is central to Ruto's economic transformation plan, has commenced the disbursement of loans to MSMEs in the informal sector. The informal sector employs 85 percent of Kenya's workforce (15 million out of 18 million). So far, the new initiative has expanded credit to 6 million Kenyans in the informal sector with low-interest loans to bolster small businesses.
Economy
As mentioned earlier, President Ruto inherited a struggling economy caused by external shock of rising inflation, high-interest rates and COVID-19, with debt servicing taking up 50 percent of the government's revenue. Kenya still has many development issues to address, such as poverty, inequality, youth unemployment, climate change and weak private sector investment.
Inflation, especially fuel and non-food-non-fuel (NFNF) items, continues to trend upward. The country's inflation rate has risen above 9 percent since Ruto's inauguration, the highest since July 2017 (see figure below). Global factors have been major contributors to the upward increase in Kenya's consumer prices, higher cost of living, and increased taxation, undermining the president's efforts to meet public expectations. Just like many central banks across the world, the Central Bank has responded to rising inflation by increasing borrowing rates from 7.5 percent in August 2022 to 8.75 percent in February 2023.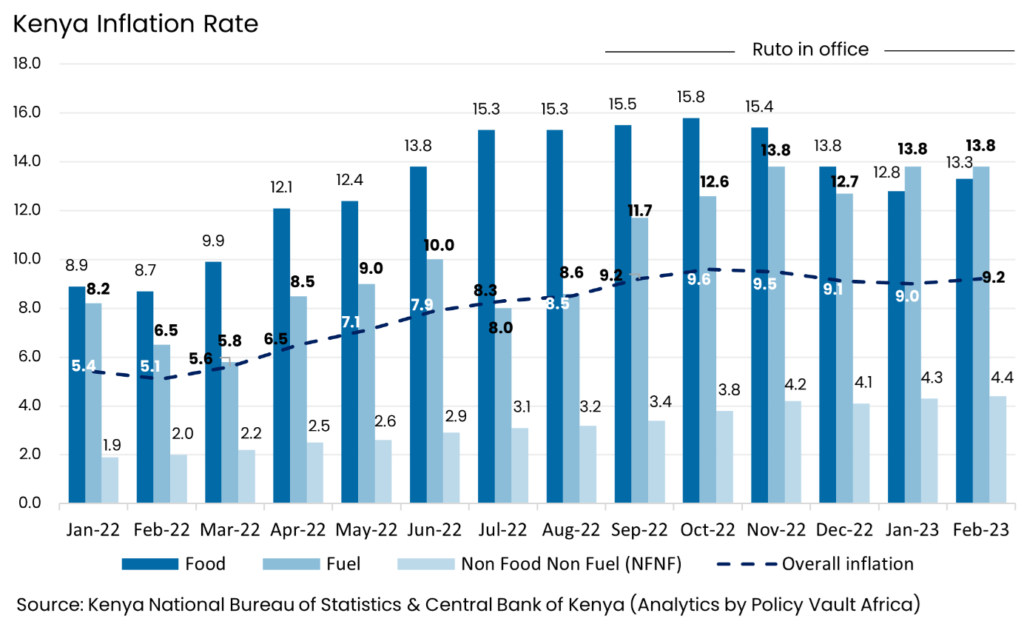 Public debt is also on the rise. In December 2022, Kenya's public debt stood at KSh9.1 trillion - a 5 percent increase from the KSh8.7 trillion reported by the Central Bank of Kenya when the Ruto administration took over in September 2022. Recently, Ruto has outlined plans to limit borrowing, increase the government's revenue, and cut spending. To close the revenue gap in the country, he has implemented a new tax system to improve tax collection efficiency. Additionally, subsidies on fuel and electricity have been removed.
On Employment, the government has reaffirmed its commitment to job creation through the Hustler's Fund to the informal sector. In addition, Ruto has increased the National Youth Service intake to 20,000 people annually to provide more opportunities for young people. In March, Ruto relaunched the Women Enterprise Fund, a government initiative that provides women entrepreneurs with affordable credit and business support services. He tripled the fund from Ksh 4.5 billion to Ksh 13.5 billion.
Housing and Settlement
With the goal of constructing 250,000 houses every year for low-income earners, the administration has launched several affordable housing projects across the country, translating to about 26,788 housing units in the last six months. He has launched housing projects in Mukuru, Rongai, Homabay, Ruiru, Kibera, Shauri Moyo, and Starehe. He is expected to launch two more in Thika and Makongeni by May.
Healthcare
Unlike other sectors discussed, little to no progress has been made in the health sector despite government promises to offer incentives to healthcare investors, to attract private investors, help actualize universal health coverage (UHC), and cut the cost of medical care. The administration has also promised to create a new health policy framework that would change how healthcare is funded and delivered across the country. The new framework proposes reforms that would position the National Health Insurance Fund as a social health insurance provider, improve the procurement of medical supplies, deploy an integrated, state-of-the-art health information system, and hire thousands of community health workers (CHWs) and doctors. The government plans to make the National Health Insurance Fund a strategic purchaser of healthcare services, while private investors will help to produce medical supplies locally.
Digital Superhighway and Creative Economy
As part of the digital superhighway, Ruto launched a data protection registration system in January and has directed the Ministry of Information, Communications, and the Digital Economy to work on the digital identity for every Kenyan. He is set to launch a Digital Identity Initiative in the coming months —this would create a unique personal identifier at birth for all newborns in Kenya. This policy initiative aims to provide digital identity to all Kenyans in order to facilitate virtual transactions between the government and its citizens.
In addition to these sectors, President Ruto has made little progress in the education sector by employing 30,000 teachers to enhance the teacher-student ratio in the country. His administration has also committed to investments in school feeding programmes across all the counties. On the international front, Ruto has now mandated that all foreign missions deal directly with government ministries and has also created a new department for Diaspora Affairs to support service delivery to Kenyans abroad, especially on consular matters.
Overall, President Ruto has made real progress in the housing, agriculture and MSME sectors in his first six months in office. However, there is still much work to be done in the economic, health and education sectors in order to drive the economic transformation promised during his campaign.
We are also tracking President William Ruto's campaign promises. Our public policy researchers rate each campaign promise based on whether it has been initiated, partially delivered, delivered, stalled or there has been no progress: click to view Ruto's Delivery Tracker
This article was written by Malcolm Durosaye.