Looking Forward to Nigeria's General Elections: What are the Big Issues?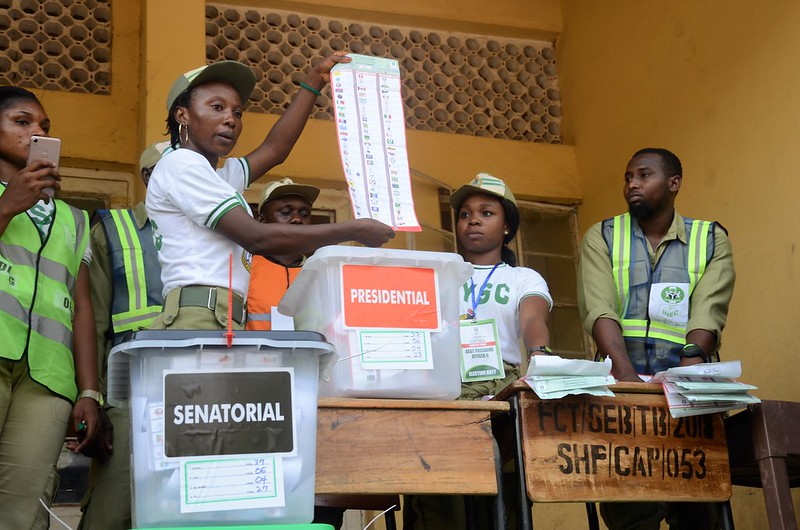 On February 25 and March 11, 2023, Nigerians will vote in the presidential and gubernatorial elections following a competitive electoral campaign where national issues such as unemployment, inflation, fuel scarcity, insecurity, fuel subsidy and theft, public sector corruption, and university lecturers' strikes have dominated public discussions. The All Progressives Congress' Bola Ahmed Tinubu, the People's Democratic Party's Atiku Abubakar and the Labour Party's Peter Obi are the major candidates heading into the weekend polls, with the New Nigeria People's Party's Rabiu Kwankwaso playing the role of spoiler.
Dissatisfaction with the current administration is a common feeling amongst most Nigerians who will be looking forward to improving the country's fortunes after 8 years under President Muhammadu Buhari.
In May 2015, Buhari waltzed into power with a deluge of promises. He assured Nigerians that his administration would: reduce the poverty rate with social protection programs; curb public sector corruption; grant more powers to states in the federation; reduce unemployment and even achieve a one-to-one exchange rate with the US Dollar. As he bows out of his office, his record is a far cry from what he promised to deliver. The poverty rate remains high at 40.1 percent; meanwhile, unemployment has risen from 10.4 percent in 2015 to 33.3 percent in 2022. Constitutional provisions still limit states from taking greater fiscal responsibility and the exchange rate has plunged from 200 Naira/1US dollar to 460 Naira/1US dollar. Issues of insecurity still bother the public—farmer-herder clashes, organized kidnappings, and train station attacks are frequent occurrences.
A mix of poorly defined policy decisions, fall in oil prices in the mid-2010s and the coronavirus pandemic plague the country's economy. These economic challenges coupled with ongoing insecurity concerns created the environment for an interesting and competitive campaign period where presidential candidates toured the country, presenting often lofty ideas to transform Nigeria. (See our article on political party candidates and their manifestos here.)
While Nigerians would no doubt appreciate the fervour with which candidates have shared their plans with them, several other factors will play a key role in shaping the outcome of the elections. We consider these factors briefly.
Insecurity: Security issues have troubled Nigerians for the better part of the last decade and will likely be a serious threat to the upcoming elections. In the north, Islamist terror groups like Boko Haram continue to wreak havoc in several states. While the frequency of their attacks has reduced in the last few months, they still hold a significant presence in the northeast. Still in the North, herders continue to attack rural communities and farmers in Kaduna, Niger, and Zamfara states. The recent attack in Malagum and Abun villages in Kaura Local Government in Kaduna South are examples of the threat they pose. Furthermore, they've made in-road in the southwest, where they recently carried out an attack on the Igueben train station in Edo State, kidnapping over 32 persons.
In the Southeast which comprises 5 states, the Indigenous People of Biafra (IPOB) separatist group continues to terrorize the region, attacking Independent National Electoral Commission (INEC) offices, police stations, and military checkpoints. Last year, the group imposed a mandatory sit-at-home on Monday in the region, violently dealing with anyone who defied the mandate. What's more, the group has maintained there will be no elections in the region and have vowed to employ violence to disrupt elections in the region. The federal government's response to this threat has been the deployment of troops to the region.
Another concern is the use of hired thugs to intimidate citizens and candidates. The recent attack of Labour Party supporters at a rally in Lagos is a clear example of how these individuals can disrupt polling units, harass and suppress opposition voters on election day.
The Naira redesign has also created public unrest. Back in December 2022, the Central Bank of Nigeria (CBN) announced the currency redesign for the 200, 500, and 1000 bank notes, urging citizens to deposit old notes at their local banks by January 31, 2023 (later extended to February 10) after which they would cease to be a legal tender. This move to replace existing banknotes came as a surprise to state governors and even the minister of finance.
According to the CBN, the move aims to combat insecurity, prevent money laundering and the looting of public funds by outgoing public officers, and prevent vote-buying in the general elections. However, since January, supply of new notes has significantly trailed the public's demand, causing hardship for Nigerians. Across the country, people now struggle to buy groceries at local markets, pay transport fares or even engage in petty trade. This Naira scarcity has led to protests in several states, including Lagos, Oyo, Ogun and Edo.
These security issues are of grave concern to voters in the forthcoming elections and pose several implications for electoral outcomes and public safety. One immediate question is whether these issues would lead to lower voter turnout. Conversely, there is a chance that disgruntled Nigerians worried with the current state of insecurity vote against the incumbent political party—All Progressives Congress.
Security concerns will also matter in the post-election period. Historically, public unrest and protests followed general elections in 1965, 1985, 1993, and 2011, so there is precedent for the losing political party's supporters to protest the elections this time round. Thus, there is need to ascertain security agencies' capacity to effectively manage any post-election protest scenario. Especially considering the army's decision to shoot down peaceful protesters at the Lekki toll gate in October 2020.
Voter Turnout: A spirited electorate ushered in Nigeria's return to participatory democracy at the turn of the century, but since then, there has been a decline in voter participation. Voter turnout has declined from 69.8 percent in 2003 to 57.49, 53.68, 43.65, and 34.75 percent in 2007, 2011, 2015, and 2019 respectively in the presidential elections. This issue could also be significant in this year's election. Although current levels of insecurity may scare potential voters, it is also possible that voter turnout would increase for the first time since the 2003 general elections given the renewed interest of young Nigerians in governance and political change.
Nigeria's youthful population may draw inspiration from the 2020 EndSARS protests where they marched together in various cities across the country to protest police brutality and human rights abuses by the Nigerian Police Force's SARS unit. These protests extended beyond condemnation of police actions to include public calls for accountability with the now famous slogan "soro soke" which means speak up. Mobilization efforts based on this newly politically engaged demographic may be a key factor in the upcoming elections. INEC data shows a high percentage of newly registered voters—76 percent (7.28 million voters)—are youths between the ages of 18 and 34. If this new category of voters actively participate in the elections, voter turnout will likely be higher than in 2019, potentially resulting in surprising electoral outcomes across the country. Polls have shown that this youthful section of the population has gravitated toward Peter Obi, the relatively small Labour Party's candidate.
Another hypothesis is that the current state of the economy will push Nigerians in search of more favourable economic conditions to the polls. With most significant economic indicators trending downward, voters may decide to come out in droves to discipline the incumbent party for its policy decisions over the past eight years.
Misinformation: Information flow will also pose a challenge at different stages of the elections. In the last few weeks, various platforms have been inundated with fake stories of candidates withdrawing their bids and endorsing their rivals. INEC and security agencies must be proactive in monitoring offline and online information flow for the spread of fake news, especially with regards to election results. The National Broadcasting Commission (NBC) must also ensure TV and radio stations across the country abide by strict orders not to report unconfirmed election results. In the past, wrongly reported results have sparked public unrest, such as in the 1965 and 1983 elections.
Additionally, there is a need for INEC to properly educate voters on the voting process as specified in the Electoral Act, as well as the conditions a candidate must satisfy to be declared the winner of an election. This will help forestall possible post-election protests and accusations of rigging by supporters of losing candidates, which was the case in 2011. Lastly, INEC must work with the political parties' communications apparatuses to ensure they do not misinform their members about rival candidates and results.
Vote Buying: There is a history of vote buying in all general elections since 1999. Vote buying is the exchange of votes for money. This form of electoral malpractice hinders the development of a participatory democracy. What's more, it perpetuates weak institutions and hinders the growth of effective governance by allowing officeholders to eschew public service delivery. It also facilitates corruption since politicians will often need to steal public funds to buy votes.
Vote buying has already been a key factor in the electioneering process. Both the PDP and APC's presidential primaries were rife with vote buying episodes; according to various reports, party nominees allegedly paid party delegates in exchange for their nomination and subsequent emergence as party candidates. Judging by the recent elections in Ekiti and Osun where votes were purchased at polling units, it is reasonable to expect that this activity will occur in the general elections. In fact, current economic hardship across the country makes it even more likely that perpetrators will find individuals willing to sell their votes.
There is also the possibility of indirect vote buying—politicians paying off INEC officers, security agencies and the media look away while elections are rigged or altered at the polling units.
Ethnic Divisions: The 3 main candidates are all from the 3 major ethnic groups—Hausa, Yoruba, and Igbo—and all 3 have faced opposition accusations of prioritizing regional interests. LP candidate Peter Obi has been accused of having ties with IPOB while PDP's Atiku Abubakar has been accused of pushing northern interests after assuring northern stakeholders that he's the only candidate that understands their needs. Tinubu's infamous "Emi Lo Kan" speech where he implied that it's both his and the Yoruba people's turn to hold the presidency is also top of mind. INEC and security agencies must closely monitor the elections and ensure that the country's rich ethnic diversity, which extends far beyond these three major ethnic groups, does not lead to public unrest.
Religious Divisions: One contentious public debate so far has been the APC's choice of a Muslim-Muslim presidential ticket, which is a departure from the expected norm of splitting the ticket by religious lines. The last four administrations have either had a Christian President and Muslim Vice President or vice versa, a nod to the country's rather even religious split. Peter Obi is the only Christian among the four leading presidential candidates, a reality that may work in his favour. A recent poll by Stears notes that while Nigerians claim that religious affiliation is not a main factor affecting their votes, a plurality of Christians—43 percent—intended to vote for Obi.
Electoral Dispute Resolution: Electoral dispute resolution is perhaps the most significant factor of the post-election. Historically, the post-election period in Nigeria is rife with election petitions. The high number of cases of electoral malpractice and rigging often results in candidates appealing results. In the 2007, 2011, 2015, and 2019 general elections, the appeal court received 3000, 733, 730, and 736 electoral petitions respectively. This high number of electoral petitions can be partly attributed to the nature of previous election processes where the voting process—voter accreditation, confirmation, and the transfer of votes to INEC—was manual and easily susceptible to rigging and malpractice.
The new Electoral Act 2022, which has modified the voting process to include the adoption of technology in voter accreditation and votes transfer presents an opportunity for fair and credible elections with fewer petitions. However, the recent Osun State elections which were contested under the new Act have raised cause for concern. After a transfer of power, the state election tribunal nullified the election results that were initially announced by INEC citing instances of overvoting in several polling units. The tribunal's report relies on the newly introduced Bimodal Voter Accreditation System (BVAS); however, INEC has appealed the tribunal's verdict presenting the court with its own separate BVAS report. There are several implications here, but a couple of questions immediately jump to mind: how are there two separate BVAS reports? And does this mean that the INEC database storing the BVAS report can be altered?
An additional worry is the slow pace at which electoral dispute resolution takes place. In Osun's case, it's been almost a year since the election and with the case likely headed to the Supreme Court, it could take another two years to resolve. This creates political instability in the state and threatens the mandate and legitimacy of the governor.
As the country votes in the coming days, these factors could significantly shape the outcome. While pre-election and election day are likely to be dominated by issues such as vote-buying and voter turnout. In the post-election period, electoral dispute resolution will likely be the most critical public concern. Policymakers cannot afford to ignore these issues that have historically shaped elections outcome in Nigeria. INEC and security agencies must work together to ensure a fair, credible, and transparent election that reflects the wishes of voters.   
This article was written by Hycent Ajah